The Pipeliners Cloud Welding Umbrella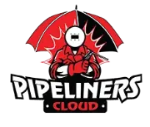 We Created the Pipeliner's Cloud
So You Can Conquer the Elements
It's Heavy Duty... Just Like You
---
---
The Longest Lasting
Welding Umbrella

---
---
We are Welders with a Focus on Research and Development
More Heavy Duty Than Other Umbrellas

Stands Up to High Winds and Blazing Sun

Steel Pole with Threads to Attach Extension Pole

Quick Shipping and Topnotch Customer Service
The Best Protection from Sun, Rain, Snow, and Wind
We are Welders with a Focus on Research and Development
More Heavy Duty Than Other Umbrellas

Stands Up to High Winds and Blazing Sun

Steel Pole with Threads to Attach Extension Pole

Quick Shipping and Topnotch Customer Service
The Best Protection from Sun, Rain, Snow, and Wind
---
---
---
---

"By far, the best umbrella I've ever owned! It's a very well-made umbrella! Keep up the great craftsmanship, Pipeliners Cloud! Great product!!!
5 ⭐️ all the way!"
Todd R.
---

"Best umbrella we've ever owned. We had a storm come in unexpectedly with high winds and we had left it out and open and no damage at all. Very durable and well built. Well worth the money."
Morgan M.
---

"💯 💪🏻 Jam up umbrella..!!
Only a real hand could have come up with this idea. I don't see myself needing another umbrella for years to come, unless I decide I want a second one."
L.O.
As welders, the umbrellas we saw
in the field were so weak.
Seriously... they were more trouble than they were worth.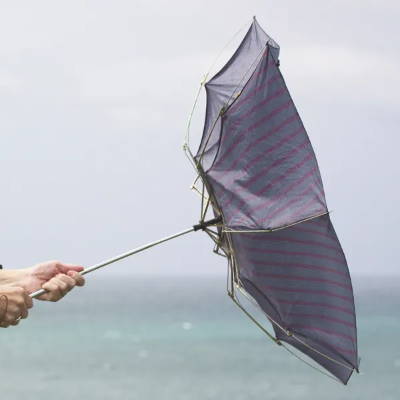 Other Welding Umbrellas
❌  Made of Flimsy Materials
❌ Fall Over, Tear, Blow Away
❌ Leave you, and your Work, Exposed to the Elements
❌ Designed by People who Have Never Been in the Field
❌ Make Other Welders Laugh at you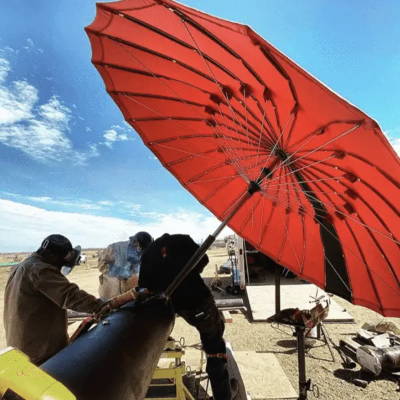 Pipeliners Cloud
✅ Made of High Quality, Durable Materials
✅ The ONLY Umbrella to Survive 60MPH Testing
✅ Superior Protection from Blazing Sub, Scorching Wind, and Rain/Snow
✅ Design by Welders
✅ Makes Other Welders Jealous
---
Don't take our word for it.
Here is what our customers have to say:

"The umbrella is built like a tank, shipping was extremely fast, customer service is unlike anything you normally see now days. Great product, great price, great people."
Bobby H.

"This is the best product I have ever used. Absolutely the best umbrella I have ever owned and I have had another name brand umbrella. It doesn't even come close. Great job on making a awesome product."
Kevin M.
The Best Protection from Sun, Rain, Snow, and Wind

"Awesome product. I'm a custom welder fabricator, I carry my Cloud everyday. I've used the Cloud outside for sun shade, rain umbrella, snow cover and wind block while welding. Great product!"
Trevor C.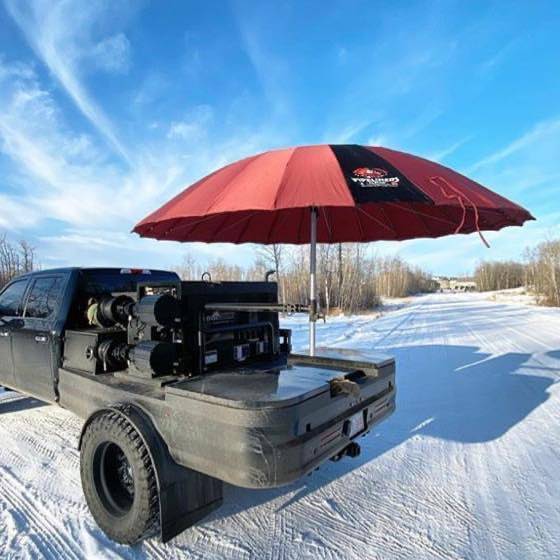 HOW IT WORKS
1. Stand Under It
2. Work Under It
3. Rest Under It
4. Do Anything You Want Under It
5. Never Worry About Sun, Wind, and Rain Slowing you Down Again
The Best Protection from Sun, Rain, Snow, and Wind

"Best umbrella you could buy. I'm a field diesel technician out in west Texas and this things stands up the the high winds and blazing sun no problem, so if you are debating on getting one trust me it is well worth the investment"
Justin H.
It's Simply the Best Umbrella You'll Ever Own
Take it to work, to the beach, or anywhere you want reliable shade.

"💯 I can honestly say these are the best umbrellas on the market! Covers the width of my deck. Had 3 other guys order one when they saw how durable it was built.
GO GET YA ONE!"
D. Kelly
The Best Protection from Sun, Rain, Snow, and Wind
Is the Pipeliners Cloud right for me?
Yes. It's simply the best umbrella on the market.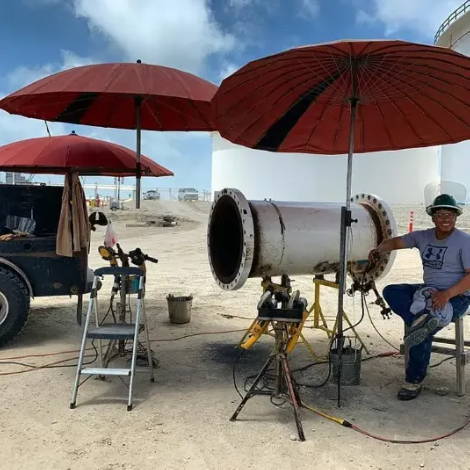 How quick can I get it?
We ship orders daily. If you order before 2 PM Central Time, your order will ship the same day.

Is the umbrella water proof?
Yes, the Cloud is 100% waterproof.
Is the Cloud flame resistant?
Yes, the Black model is flame resistant.
The Best Protection from Sun, Rain, Snow, and Wind
Order Protection
Why use shipping protection?
Get a refund or reshipment within just a few clicks for the following issues:
Theft | Not Received | Damaged | Lost in Transit | Wrong Item